We have several new Centroly sign-ups this week that joined us, welcome to the Centroly family!
We've added the ability to add multiple collaborators to Centroly collections, just click on the Collaborators button at the top of your collection, and add the user you wish to work with!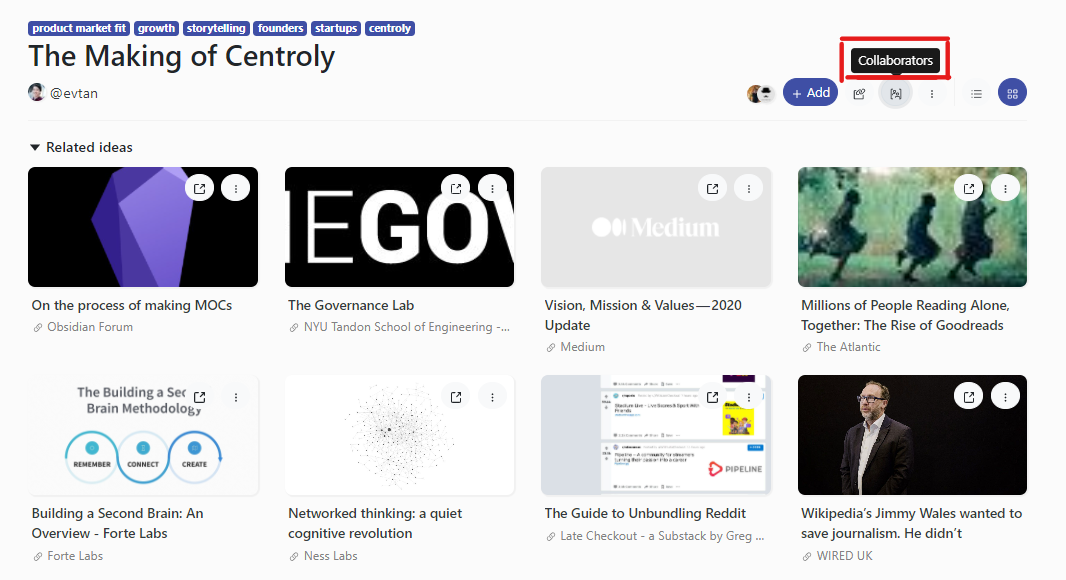 Here are some articles from our users that stood out to me.
Weekly Highlights
---
Surprisingly, a study comparing work habits in 2013 and 2020 shows remote work has improved productivity and even results in more time spent with customers and partners.
Researchers studied knowledge workers in 2013 and again during the 2020 pandemic lockdown and found significant changes in how they are working. They learned that lockdown helps people focus on the tasks that really matter. They spent 12% less time drawn into large meetings and 9% more time interacting with customers and external partners. Lockdown also helped people take responsibility for our own schedules.
---
Good decisions are about focusing on process, not outcomes. This principle can also be applied to product development.
As we look to challenge ourselves to make the best decisions possible, we often judge our decision making skills on the outcomes we achieved. This isn't quite right since the outcome itself will always be unpredictable; the results achieved are different to the decision making process which led to a decision being taken. This is known as 'resulting' – where you assess the quality of your decision by the outcome it achieved.
---
This sleek website offers various checklists to make sure you've ticked the boxes in your web experience design. Very neat!
There's no one way to design a website. It depends on your goal, audience, and what's on offer.

The checklists below cover a number of pages that can be on a website, so take a look and use whatever's needed for your project.
---
This profound idea here suggests that design is a process of finding how to bring the conceptual models of the user and designer together in an innovative way.
Design is a quest to find the best possible match between the user's mental model that they have in their mind, and the conceptual model that you're presenting to them with your product.
---
Have any suggestions or feedback? Schedule a call with our founders here, or join the conversation in our Slack channel for power-users!